I went to see the much celebrated Cake today.
As is my normal practice of writing reviews I will again not divulge anything about the plot or the twists.
Suffice it to say that in the very simplicity that lies at the heart of the movie, Cake is a remarkable and brilliant feat.
My daughter and I, avid movie goers, try our best to see as many Pakistani Movies as possible.
If for no other reason than to support a struggling Lollywood that is trying its best to find its feet where our cinema
going public has a taste for the larger than life Hollywood and Bollywood Flicks.
But like my daughter always says
"Pakistani movies make sense"
And that is my point exactly. What I think she means to say is that they are relatable more than anything else.
And Cake is as relatable as it gets!
In a nut shell it captures the dilemma of our modern family structures. Family structures where our parents are
trying to be supportive and progressive by allowing their kids to fly the nest and make a life for themselves away
from home. But it's also true that somewhere in their hearts they harbor a resentment against us flying away and
forgetting their need of us.
In a parallel comparison Cake also brings to light the constant grappling with guilt that people who build lives away
from their parents endure. And how the siren song of the roots calling to them is stronger than their needs to move
on and embrace a life away from home.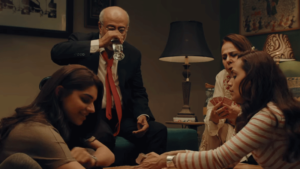 It also brings to light the modern and very relatable
relationship dynamics between siblings who move
on and those who often find themselves in a care
takers position for their families.
These are issues that we see cropping up more and
more in our families nowadays and Cake has done a
remarkable job of capturing the very essence of this social dilemma in a nutshell.
Cake is remarkable because of the simplicity of its script that tackles so many issues at a very deep level while
avoiding becoming a melodramatic affair of a movie.
The regional background score was a sheer stroke of genius. Much appreciated was the lack of choreographed
musical scores in the movie.
A movie that has been perfectly cast and orchestrated,  has done himself and all of us proud with this
movie that hits a nerve, certainly made me shed tears and still remain a commercial endeavor.
For every movie goer out there, no matter what, don't miss seeing Cake!
Search Keywords:
PakistaniMovieCake | MovieReview | Cake | PakistaniMovies | Lollywood | LollywoodMovies | Hollywood | Bollywood | Desi | DesiMovies | Reviews | Pakistani | DesiScenes