Absolutely the most refreshing and yummylicious drink imaginable!
Cut watermelon and dice. Put in the food processor (seeds and all) and let it come out a delicious liquid mush.
A medium sized watermelon serves about 8 people. I just cover it with cling film in individual servings and refrigerate.
If you want your summer dinner guests to ooh and aah then impress them with this juice. Just make it a few hours prior and chill to the max.
Add a small slice of watermelon to the rim of the glass and voila!
Bask in the compliments!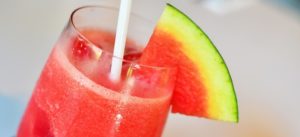 Search Keywords: