A visual delight from Christopher Nolan the writer/ director of Interstellar, Dunkirk is a historical take on the actual
event that took place on the beach of Dunkirk in WWII where about 400,000 allied soldiers were stuck awaiting
evacuation.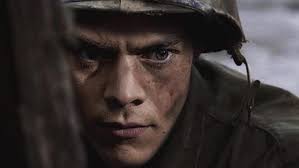 In reality, one of the most triumphant evacuations ever
in the history of mankind Dunkirk is first and foremost
a mood-piece, and a hugely effective one. In his usual
style of film making where events take place on a linear
horizon in parallel time Nolan hasn't made a about a
war – it's about survival and misery and bravery and
courage all rolled into one.
To that end there is no blood and gore in the movie but the misery and stark terror will make you physically flinch
many a times during the movie superbly portrayed through the characters in the movie.
The background score is a story in itself by turns throbbing like a heart and ticking like an angry stopwatch.
The darn thing is so nerve-wracking that at times it feels like an additional enemy front!
Even though it was a scrap to keep the various events straight with the timeline mucked and warped in typical Nolan
style, this was one movie that brought home the desperate reality of the human plight in a ruthless war.
If you go see Dunkirk be prepared to be thrown in a whirlpool of obsessive sound, blinding colors, panoramic scapes
and soul wrenching desperation.
Search Keywords:
Dunkirk | MovieReview | ChristopherNolan | MovieDirector | MovieWriter | Interstellar | WWII | Movies | Reviews | InternationalMovies | HollywoodMovies | Hollywood | International