Eid Files: Easiest Mutton Karahi Recipe
Namkeen Eid and Karahi go hand in hand girls and today I am sharing my mom's super quick and easy mutton
Karahi recipe with all of you. There really isn't a truckload of ingredients here and the mutton therefore retains its
own flavor while cutting down on our stress level in the kitchen also as this is one recipe where we literally cannot go
wrong.
Ingredients:
Mutton: 1 Kg
(Preferably boneless and keep track of the weight and adjust your other ingredients accordingly)
Salt: 1 teaspoon
Ground red chilies:  ¾ teaspoon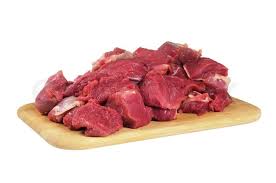 Turmeric powder: ¼ teaspoon
Black pepper corns: half dozen
Tomatoes: 3 (peeled of their skin and blended)
Fresh green chilies: 3 (coarsely chopped)
Ground Garlic: 1 teaspoon
Ginger: Finely chopped 1 Tablespoon
Oil: ½ Cup
The above ingredients are based on a 1 kg of mutton estimation. If you have 2 KGs double the ingredients and if you
are cooking with three kg than triple the ingredients and so on.
Preparation:
Take a wok preferably with a flat bottom (easier for the moisture to evaporate) and add the oil to it. Once heated well
add the mutton and fry till the meat is crispy and golden brown (estimated time for 1 kg is 10 to 15 minutes but will
increase with more meat)
Once the meat is a golden brown and the edges are crispy add the chopped garlic and the black pepper corns and fry
for another 5 minutes.
Now add the red chilies and stir for 10 seconds and add water. Approximately 2 cups for one KG of mutton. Add
turmeric powder and red chilies and cover and cook for 30 min approx. or till meat is three quarters cooked.
By now the water would have evaporated so add the tomatoes and stir till the tomatoes don't form a gravy. Check to
see if meat is cooked. If not add a little water, cover and cook for another 10 minutes or till tender. Add salt, ginger,
green chilies and serve.
Tips:
If your meat is or exceeds 4 KGs then bring tomato quantity down to 2 tomatoes per KG
If your meat exceeds 5 KGs then only use two tomatoes per KG
If your meat is or exceeds 4 KGs then only use 1 cup of water to cook per KG as the meat itself exudes a lot of moisture and your mutton will turn soggy and over cooked
Ensure that you fry the mutton really really well as that will take away any trace of the odor which usually accompanies sacrificial meat
If you like you can sprinkle some dry Qasuri Methi once your Karahi also for a stronger flavor
Add homemade yogurt to your table. You can find the recipe here