Just came back from Humayun Alamgir's 10 year celebration that also saw the launch of his couture studio.
A star studded affair attended by lots of Celebs including quite a few from our National Team, the studio was abuzz
with excitement and Glamour! 
The man of the day Humayun Alamgir looked dapper in a turquoise jacket
with his ripped jeans and talked about his
excitement at entering the very less tread road of Male couture in
Pakistan.
His focus will be for red carpet looks and grooms whom he
says really need to up their style game to keep up
with their very beautiful Brides.
Down the road Humayun has plans to venture into women couture but says that time is still a little further down the
road!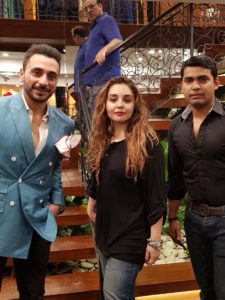 For now he is super excited about the Tuxedos, Waist Coats and half
Sherwanis which he has designed solely for
wedding wear.
Must say that Team Tvinkal liked the funky pizazz that they are
bound to bring to the guy of now's wardrobe!
Humayun's store is a must visit if you want to up your Style Game 
this coming Eid and Wedding  Season.
Search Keywords:
Trends | Fashion | ALittlePizzazForTheMen | SocialDiaries | HumayunAlamgir | Clothes | EventReviews | Reviews | Glamour | RedCarpetLooks | RedCarpet | Grooms | Humayun | TeamTvinkal  | Wardrobe | StyleGame  | Style | Eid | EidDay | EidClothes | WeddingSeason | Wedding