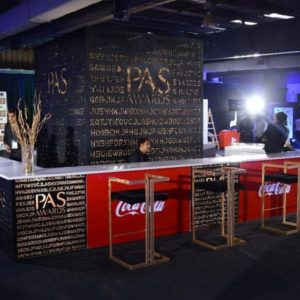 Noncommercial and bracketed to the Advertising circle only The Pakistan Advertisers Society  Awards are still
a very glamorous and elite Awards Night!
With Power Players from both the Advertising Agencies and Big
Conglomerates who spend millions on their
advertising campaigns, the annual PAS Awards brings both
celebrities who attend and powerful corporate resources
together for a fun and glitzy evening.
I attended the awards tonight and the absolutely best thing that
happened was that they started on time! Reletively!
From nominations and awards to acceptance speeches and
cheers, these awards were well conducted by Veena Malik
and Shafaat with some funny, quirky exchanges that broke the monotony. The performances were a nice
endeavor and Billal Khan easily was the best out of them rocking the stage with his Tanhai Ke Safar Main.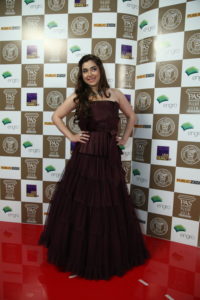 The event also featured Haiga Sargam which was a change so fresh and
evoked memories enough to make anyone present nostalgic.
Well Planned and executed a few of our Fav ads like Zalima Coca Cola Pilla
De and Mc Donalds special child Advert got constantly nominated in a
number of categories and did its team proud by bagging quite a
few awards.
Of course I cannot write about an awards night without
talking about its Saris and the Red Carpet and this one too oozed
Glamour.
Fav Looks that were nominated by Team Tvinkal had Komal Rizvi top the
list. She glowed in a Hina Rizvi
Layered Plum Ball gown and was effortlessly chique in her loose curls and glowing makeup.
Not far behind was Tooba Siddiqui who carried a  saree with panache and oozed glamour!
All in all a great Saturday night spent with glitz and glamor ruling the stage and beyond!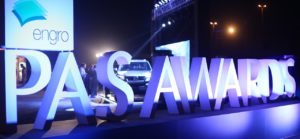 Search Keywords:
SocialDiaries | PASAwardsNight_2018 | Reviews | EventReviews | PAS_Awards_2018 | NonCommercial | AdvertisingCircle | ThePakistanAdvertisersSociety | PAS | Awards | ThePakistanAdvertisersSocietyAwards | PASAwards | Glamorous | Glamor | AwardsNight | PASAwardsNight | GlamorousAwards | GlamorousAwardsNight | AdvertisingAgencies | VeenaMalik | Shafaat | BillalKhan | TanhaiKeSafarMain | ZalimaCocaColaPillaDe | McDonaldsSpecialChildAdvert | TeamTvinkal | KomalRizvi | HinaRizvi | ToobaSiddiqui