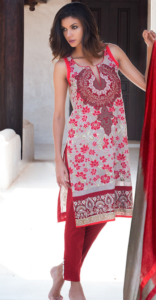 Not being too big on Lawns I was pleasantly surprised when I came
across the new Zunuj spring summer 2017 collection. With lovely cotton
net shirts and pure chiffon dupatas they are elegant and dressy all at once.
The quality of the cotton net shirts is very fine and the embroidery has been
carried out with a lot of finesse.
Frankly I avoid most lawn brands due to the fact that I find the prints and
embroideries very busy with too many colors clashing and creating a chaos
in the suit. For someone like me who loves to accessorize and enjoys a good
kohl eye and a dark lip, the end result looks like a confection!
Therefore I was pretty surprised to see this collection when it was shared
with me for a review.
With the colors melting together and the embroideries not detracting from
the prints this 5 piece collection is a nice little surprise from the house of Zunn. The next bit of surprise was the price
point which is between 5000 to 6000 PKR for the 3 piece suits which given the trends isn't as pricy as other labels in
the same category.
Below I am sharing 2 of my favorites in the collection.
This is a limited edition collection so go out and grab your suit of choice ASAP!
Search Keywords:
HouseOfZunuj | Zunuj | Lawns | SpringSummer | SpringSummerCollection | SpringSummerCollection_2017 | Reviews