Where I think the Bollywood divas have progressively evolved in terms of their red carpet appearances there are
still some epic failures where they try to emulate the more developed aesthetics of their Hollywood peers and fail to
impress despite a team of stylists/ makeup and hair people all preparing for months in advance with their
designer and star counterparts for the big night.
I've chosen the five looks with four being the most epic failures of IIFA 2017 which is quintessentially the Oscar
night of Bollywood and one very surprising starlet who was the epitome of understated glamour.
Read on for more
#5  Nargis Faakhri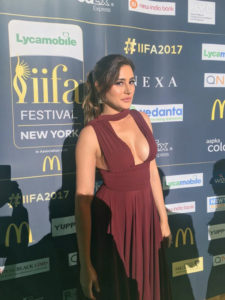 Nargis Fakhri opted for a bold oxblood gown by Gauri & Nainika for the evening, but the understated nude makeup
and casual pulled back ponytail mixed with a less is more approach to accessories made her look washed out and
ordinary. Even the very Risqué outfit failed to attract the eye.
#4  Huma Qureshi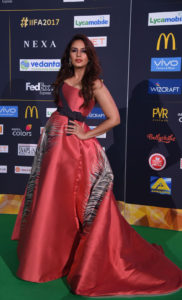 The actress was probably playing safe with a Carolina Herrera gown for the awards night and despite some recent
weight loss she looked much heavier than she is in the gown. Whether it was the puffiness at the hem or if the fabric
is to blame the gown which I'm sure was made to come across as ethereal and dreamy badly let her down.
#3  Neha Dhupia
The lady wore an ill fitting tulle gown in black and white and despite accessories was unable to make an impact. The
hair was too tightly dressed to the scalp. The dress did not flatter her and the accessories were nothing to write home
about.
#2  Kalki Koechlin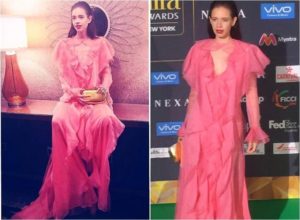 What can I say. How can this gorgeous Gucci ruffled gown go wrong on Kalki can be blamed in part to the red lip or
maybe the yellowish looking clutch or an unflattering schoolgirl hair look.
Any way you choose to look at it, it comes across as a miserably failed effort
#1  Disha Patani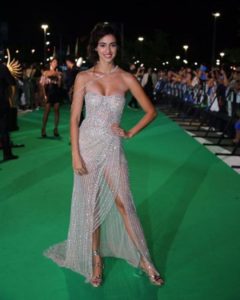 The starlet who won the Best Debutant – Female award rocked a Falguni & Shane Peacock silver sequined gown and
boy she perfected the look. From the casually draped silver chains to the beautifully coiffured hair and the perfect
gladiator heels she rocked the naughty sultry I'm the new Diva on the block look to perfection.
Search Keywords:
SocialDiaries | Trends | Fashion | EventReviews | Reviews | EpicRedCarpetFailsOnIIFA_2017  | IIFA_2017 | EpicRedCarpetFails | EpicRedCarpet | RedCarpet | RedCarpetAppearances | Bollywood | BollywoodDiva | Indian | Desi | DesiFashionTrends | FashionTrends | IndianFashion | IndianFashionIndustry | IndianFashionNiche | Niche | FashionIndustry | FashionMania | Fashionista | IndianFashionista | FashionDiva | IndianTrends | Hollywood | TeamOfStylists | Makeup | Hairs | People | OscarNight | Glamour | IndianGlamour | NargisFaakhri | Gauri | Nainika | Risqué | RisquéOutfit | Outfit | Eyes | HumaQureshi | Actress | CarolinaHerrera | Fabric | NehaDhupia | Dress | KalkiKoechlin | RedLips | Lips | HairStyle | Style | DishaPatani | BestDebutant | Female | FemaleAward | Falguni | ShanePeacock | Hairs