And another Bollywood Diva ties the knot!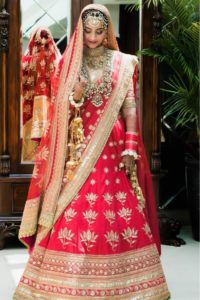 This time around it is Sonam Kapoor, daughter to the legendry Anil Kapoor and
first cousin to the teeny bopper heart throb Arjun Kapoor.
She is getting married to the fashion label entrepreneur Anand Ahuja who wait for
the most romantic surprise "Proposed marriage to her within a month of meeting
her!!!"
Now even though they never proclaimed their relationship but both their Insta feeds
are full of Pictures with each other so yeah it was pretty much a known thing.
For her Wedding Sonam chose a traditional Red Wedding Dress. And where the Fashionista is known for her
risky but usually charming fashion choices this one unfortunately didn't work out too well. The three piece gold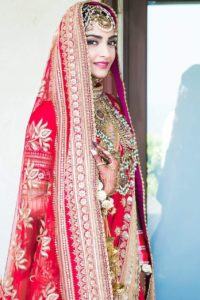 worked red wedding dress looked tacky and the very over the top jewelry Sonam chose to couple it with gave her
entire look a very chocked hectic too much happening with her look. The sprinkled motifs over the Duppata and
lehnga didn't do anything to lessen the look of chaos that was created.
However you know what they say! A happy Bride is the most Beautiful Bride and the
one thing that Sonam was happy! So whatever her fashion choice for her wedding day,
we at Team Tvinkal wish her all the happiness and love in the world! Hope she gets
her happily ever after!
Psst…. Our diva from Lollywood Ayesha Khan made the perfect wedding wear
choices and you can read all about it here:
The Perfect Wedding Ensembles Lollywood Diwa
Search Keywords:
BollywoodDiva | LollywoodDiva | SonamKapoor | AnilKapoo | ArjunKapoor | AnandAhuja | AyeshaKhan | Trends | RedWeddingDress | Fashionista