Finally the much anticipated Teefa in Trouble is out and let me tell you this flick was very much worth the wait. An extraordinary good effort it gives me immense pride to see movies that raise the bar for Pakistani Cinema!
Teefa in trouble surpassed all my expectations and I will rank it as high in the comedy genre as Jawani Phir Nahee Ane which was a fast paced happening funny laugh riot.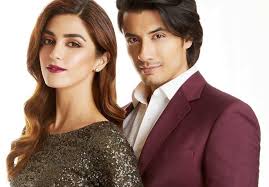 Well, Teefa in Trouble is giving JPNI some major competition. To me the movie was flawless. Beautiful locales whether it was Lahore or Poland, the backdrops were mesmerizing. The sound tracks were outstanding and the item number song is already on my playlist! But that is not to say that the rest of the track was average. Every song one after the other was enthralling and my favorite after Item number are Ishq Nachaunda and Chan Ve.
The debut of Ali Zafar in Lollywood is sensational to put it mildly. He rocked the role of a desi Punjabi gangster and Maya Ali was heartbreakingly beautiful on the screen. With her stunning looks she slayed in her role as a vulnerable poor little rich girl. Legends like Javaid Shiekh, Bushra Ansari and Mehmood Aslam only added to the melting Pot of Total Paisa Wasool that is Teefa in Trouble.
But the overall experience of Teefa in Trouble is a nine over ten!
Great songs. A wardrobe that slays. Locales that are breathtaking. Fast paced, funny and fantastic the movie boasts witty dialogues and the best fight sequence I've seen in a Lollywood Movie so far. Because seriously we are yet to acquire finesse in songs choreography and action sequence but Teefa in Trouble had those both nailed.
A stalwart effort by Ahsan Rahim who made his debut as a feature film director and gave us a movie that is certain to rise to the standards set by Punjab Nahi Jounge!
This one is a must see!
Search Keywords:
TeefaInTrouble | BlockBuster | BlockBusterMovie | PunjabNaheeJoungi | MovieReview | Reviews | Movies | Lollywood | LollywoodMovies | LollywoodMovieReview | Pakistan | PakistaniMovies | PakistaniFilmIndustry | Desi | DesiMovies | DesiMovieReview | Cinema | PakistnaiCinema | JawaniPhirNaheeAne  | JPNI | Lahore | Poland | SoundTracks | Songs | Playlist | Tracks | IshqNachaunda | ChanVe | AliZafar | Punjabi | Gangster | PunjabiGangster MayaAli | Legends | PakistaniCelebs | Celebs | PakistaniLegends | JavaidShiekh | BushraAnsari | MehmoodAslam | AhsanRahim