I haven't seen the first part but know that it is iconic in recent times prominently because of the passivity it maintains while filing the most gruesomely violent scenes and to look dispassionately at the darker sides of the special agents of the US who indulge in tactical and psychological warfare.
Roughly translated Sicario stands for hit men of the Cartels in Mexico and this movie is yet again a play on the obsessive American Mexican border infringement with Arab Terrorists added in the mix this time around.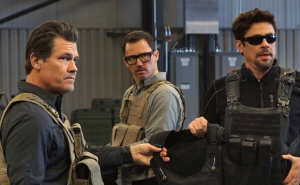 Its gory it violent but it's also mesmerizing and makes for some serious watching made especially riveting coming at a time when there is already an American Mexican migration crises that is making International Headlines. Not a movie for your kids or even your Teens it can be seen easily as a standalone without there being any lapse in understanding.
What the movie subtly handles are the emotional turmoil of the soldiers who are indulging in unspeakable activities for their Governments. The greater moral question I what makes up the fabric of this story and for serious movie goers this one is a no miss.
Search Keywords:
SicarioDayOfTheSoldado | Sicario | DayOfTheSoldado | HollywoodMovieReview | JurassicWorld | JurassicWorldReview | FallenKingdom | Movies | Reviews | MovieReview | Hollywood | HollywoodMovies | JurassicSeries | JurassicMovies | Jurassic | IslaNebular | Blue | FavKillerRaptor | Raptor | International | InternationalReviews | InternationalMovies | US | UnitedStates | American | Maxican | AmericanMaxicanBorder