I am not the only one who thinks the Jurassic series is lit. The imagination runs riot with the big old Dinos coming back to life thanks to man's genius and then we fight for survival against them. The fascination attached to the entire series is endless. Doesn't hurt that the Big Guys were actually here before us unlike the extra-terrestrials who are maybe or not a figment of our imagination!
Anyway enough raving about Jurassic series. Lets discuss how the movie was?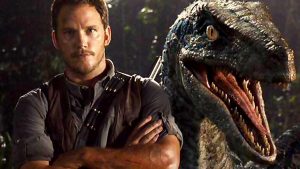 Well it was basically a stage setter. The drama and the nail biting action of the previous installment was very much missing. As an avid cinema goer I second guessed most of the events before they happened.
Which is not good news really. However the story line was ok and the graphics were as good as the last ones which isn't saying much as with every new installment in any movie series we see superb improvements in graphics.
The drop dead locations of Isla Nebular that made the last movie such a delight were also missing from this one. Frankly the moral introspection which was the basis of this installment was also quite insipid.
However there is one redeeming factor here and that is the stage which has been set for the next installment seems very interesting. The building up of Blue our most fav killer Raptor on the planet and the introduction of a dead human cloned back to life and the disbursement of 11 species of Dinosaurs on mainland America seems like a good foundation for what is planned next. If you aren't a big fan of the Jurassic movies than dish your plans to go catch this one. But if you love this series do go watch it to dream of the bigger things in the pipeline!
Search Keywords:
HollywoodMovieReview | JurassicWorld | JurassicWorldReview | FallenKingdom | Movies | Reviews | MovieReview | Hollywood | HollywoodMovies | JurassicSeries | JurassicMovies | Jurassic | IslaNebular | Blue | FavKillerRaptor | Raptor | International | InternationalReviews | InternationalMovies