Team Tvinkal had exclusive first row seats at the FPW 2018 and enjoyed every bit of the glamorous two day lineup
of some very talented designers.
Of the eight designers that showcased at FPW 2018 – The Good the Bad and the Ugly however, Team Tvinkal only ended up rooting for two.
Buxom by Cheena Chappra took our breath away.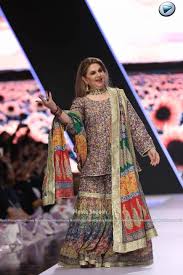 We finally saw plus sizes make an appearance on the ramp and what an appearance that
was! Cheena showcased her collection of ethnic wear by sending women of immense
powerand accomplishments who are in their 50's and 60's down the ramp.
The clothes were traditional, beautifully worked and boldly combinated. A stunning
collection that reminds us that curves are beautiful and we can rock no matter what our
age. Great collection and idea Cheena!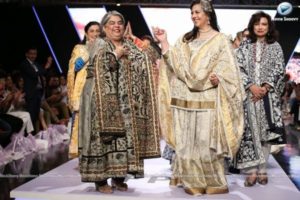 The second collection that we loved or rather that floored us was that of the Pink Tree Company. THE BEST
COLLECTION of day one! Beautiful greys, creams and golds vied with red, russets and greens to put together the
best look they have showcased so far.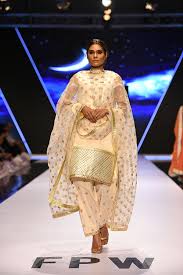 With looks that were a throwback to the
90's where powerhouses like
Neelofer Shahid ruled with her traditional
lehngas and ghararas and angrakhas, the
collection oozed the vintage glamour of
those days. Probably the best collection of
the Pink Tree Company to date, their ramp
was alive with true glamour and oomph.
As for the rest…. FNK Asia began with a good enough note and a couple of white creations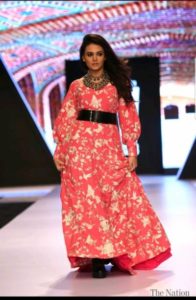 that opened the looks
were good including a white jumpsuit. But it went steadily downhill turning into a
nightmare of frumpy full sleeved,
full skirted dresses which did nothing to inspire one. Even the show stopper was so
frumpy that we shudder at the thought of being caught in it! An unseemly melon pink
with a black belt. We refuse to say more.
Mirabelle from Farah Talib Aziz was as insipid as the name suggests. With the same
pale and pink candy floss confections that reminds one of 19 century English damsels
with an overdose of floral, she failed to impress as always.
Yasmeen Jiwa and Hassan Riaz gave us clothes that were garish where the colors were concerned and so totally
unwearable that we are shudder at the very sensibility of the collection.
Finally it was Gulabo by Maheen Khan and Amir Adnan and the experience and expertise of these two were
nowhere to be found in collections that failed to impress. Team tvinkal was most disappointed with these two.
Day two showcased seven heavy weight designers and we went in hoping that we will see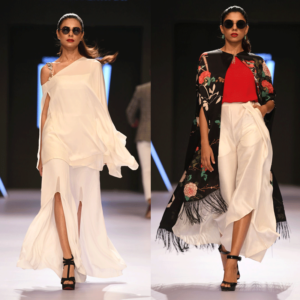 an improvement in terms of
design aesthetics this time around. Seated next to the great Maheen
Khan we did have great time though going over
our fav and not too fav looks on the ramp.
The show was opened by Deepak Perwani and his collection totally
rocked. With whites reigning supreme his silhouettes and furs and
feathers we at team Tvinkal are just waiting to go and splurge as we
believe that more than 1 or maybe 3 or probably half a dozen of those
pieces have to belong to our closet!
The second highlight of the evening was Natash Kamals Ebru. It wasn't exactly out of this world but the beautiful
airy summery spring gowns are certainly something that will add  alittle pizzaz to any wardrobe and it was a good
enough effort.
Ayesha Farook Hashwani whose collection was the grand finale of FPW in true Parisian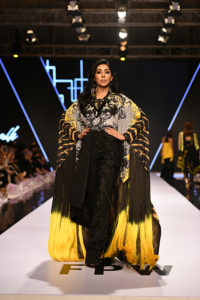 style came out with an
all dull yellow and black collection. Where frankly we found the colors garish and the
combination an eye sore, we could not fail to notice the flawless cuts of the jumpsuits
and the gowns and the jackets. We wish the colors were a little more tasteful but for
those who think bold combos rock this collection wil prove a happy buy.
We refuse to comment on collections of Nauman Arfeen and Rozina Monib. Silence in
this case as we really have turned up our noses on these two collections.
And that finally brings us to our very very favorite collection of the day.
Boheme by Sadia Kanwal.
She named her collection KathPutli Tamasha and dream jackets, lowers. Shirts and Saris.
We are in love with the beautiful mirror work, traditional colors and prints and the beautiful fusion of ethnic colors
and craftsmanship molded into modern silhouettes! Well Done! We Want! Absolutely!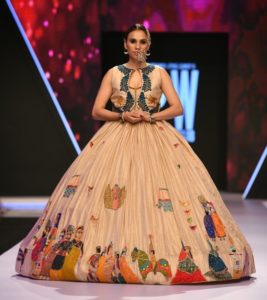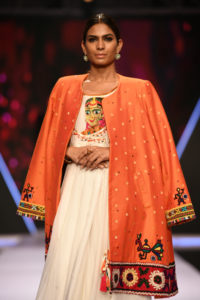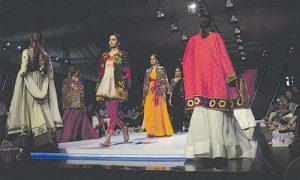 Search Keywords:
NatashKamalsEbru | FPW_2018 | Buxom | CheenaChappra | PinkTreeCompany | Collection | NeeloferShahid | Glamour | FNKAsia | FarahTalibAziz | Gulabo | MaheenKhan | AmirAdnan | DeepakPerwani | AyeshaFarookHashwani | FPW | FPW_2018 | ParisianStyle | Boheme | SadiaKanwal | Reviews | TheGoodTheBadAndTheUg | Brands | Clothes | EventReviews | SocialDiaries