I had the great opportunity of meeting up with Mohsin and Hadia of the Pink Tree Company today. Since there is a big fat family wedding on the horizon for me so a meet up with this duo was right on time! Why you ask? Well they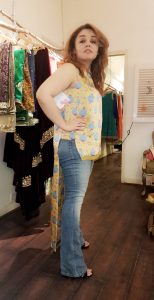 showcased their collection on the ramp of both the FPWs this year and I absolutely adored their aesthetics as they really appealed to my eastern sensibility. And so I geared up for a coffee at their studio today and was I in for a surprise or what. Firstly the dynamics of this team will have you laughing in no time! They argue, they preach and they finish each other's sentences and even though they are not alike in any manner you can sense the deep bonding and their reliance on each other which has nothing to do with a third person present. But somehow you never feel left out of their bantering. Frankly I loved the passion that they both projected towards their work and the present and future of the Pakistan Fashion Fraternity! The deeply emotional Mohsin and the firmly rooted Hadia complement each other as a team and it shows in their work.
On the ramp I loved their flair for color and the silhouettes and the revival of our core traditional motifs. Close up I was able to appreciate the intricacy and the beauty of the gotta and sequin work that embodies most of their work. There is hardly a piece there that I would not categorize as an heirloom piece and therefore their price point was not really an issue.
The fact that they are least interested in contemporary fashion industry trends and live in a bubble of their own is oh so visible in how they curated the latest collection I found in their studio. I ended up taking a gazillion pictures and videos that you can browse through both here and on my Insta Feed! If you got some serious shopping to do for the upcoming wedding season I suggest you make a beeline to the studio of the Pink Tree Company too!
Search Keywords:
Mohsin | Hadia | PinkTreeCompany | FPW | PakistanFashionFraternity | Ramp | HeirloomPiece | ContemporaryFashionIndustryTrends | Trends | FashionIndustry | InstaFeed