I'm writing once again today about my Personal Style. And this time it's all about the red carpet!
Last few days were all about FPW and then the PAS Awards. In keeping with my preferred evening formal wear I
opted for Saris on two out of the three occasions. Both saris being radically different keeping the different red carpets
in mind!
FPW 2018 Day Two I decided to don a hand painted teal and Navy blue sari with a sequins blouse. Considering
that FPW's red carpet is all about glitz and oomph I went with a messy side bun and sparkly pink lips. Added
minimal jewelry as the look was super glitzy already.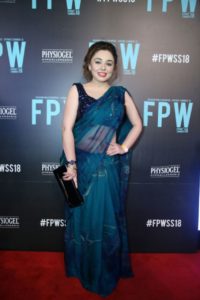 For the PAS Awards 2018 I decided to tone down on the bling, this being a corporate awards function and all.
I donned a Chantilly lace midnight blue sari with a plain spaghetti straps blouse and no jewelry except my snake skin
Armani watch. I jazzed up my look just enough for the red carpet by doing my nails and lips a bright red and carrying
a super glamorous silver diamanté clutch!
Search Keywords:
PersonalStyle | Fashion | Influencers | FPW_2018 | FPW | RedCarpet | FPWsRedCarpet | PAS_Awards_2018 | Glamour