Ali Tariq
Ali Tariq is the new sensation on the block who sky rocketed to the top of the Pakistani Music Scene with Nescafe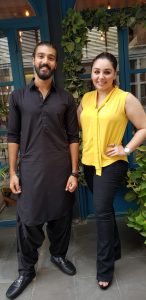 basement.
Now he is ruling the Pakistani Movie Playback singing as one of the most promising youngsters with quite a few prestigious movies in hand.
Whereas he looks sophisticated and much older than his 21 years in pictures and on TV, he is quite the opposite in real life.
He's serious, quiet, and dare I say he has an adorable shyness to him but all till he doesn't start talking about his music. Once that topic comes up you can see what fuels this young man's life blood as he turns into an animated person with definitive opinions about music, musical politics, musical genres, the legends, the instruments and so on and so forth. His passion is infectious and you can see that all the hard work and effort he puts into his work mean nothing to him as he considers music to be the sustenance of his soul…
He spoke about missing out on all the childhood activities that kids usually have because he was always totally engrossed in playing his guitar but he doesn't seem to be sad about it. On the contrary he seems to be so happy that he found his true calling so early on in life.
Chatting away with him I really understood why he is the crush of hundreds of thousands of girls in our part of the world. He has under started good looks with an adorable streak of seriousness that totally evaporates when he starts talking about his music. That is when he starts sparkling and I fully understood why our teeny boppers adore him so much! Just a heads up girls…… he's single!
I've selected a few tracks from his substantial body of work that I'm cautioning you now will soon be firm repeats on your playlist. Hear on and enjoy