qhsa17 | RedCarpet | SabaQamar | TeamTvinkal | PersonalStyle

The Red Carpet glittered with celebrities and the attendants alike and it was personally a proud moment for me
because of the realization of how far we have come in a very short while. It was just half a decade back when the
Pakistani Film Industry was dead with no hope of a revival and TV serials had lost the battle to the garish soaps of
our neighboring Country with no hopes of a revival there either. And here we are standing at the Q Mobile Hum Style
Awards 2017 with all the glitterati and hope and happiness about the times to come.
The industry had turned out in full force and the stars both major and the upcoming were dressed to kill.
Below I have compiled a list of my personal favorites on the Red Carpet.
Enjoy!
My number one choice for the best dressed is Saba Qamar who also hosted the show. Her dress by Shehla Chatoor
was  drop dead gorgeous and just what the Diva required to up her Glam Game.
The Drama eyes and nude lip with the waves were the perfect minimalistic backdrop to her gown.
On point was Ayesha Omar on the awards night in a Valdrin Sahiti Gown. From the fairy tale gown to the perfect
dark toes and lip Ayesha was a vision. Her flower corsage on her index finger was the perfect touch. Well done Girl!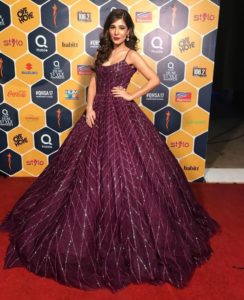 Not too far behind was Mawra Hocaine in a traffic stopping Red Cat suit. Her Black and silver clutch was the perfect
accessory. However she could have stepped up the game with better chosen earrings as we feel that an experimental
color and dress like this needed equally memorable accessories to make the statement complete.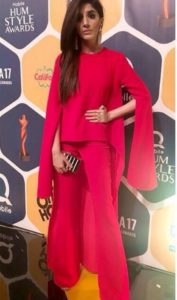 And how can we not mention Pakistan's Bhabi Shaniera Akram who looked superhot in a Shehla Chatoor Leather
evening Gown! She rocked the look all the way. And we at Team Tvinkal are big Fans of her Dignity and her
commitment to Pakistan already. We love you Shaniera!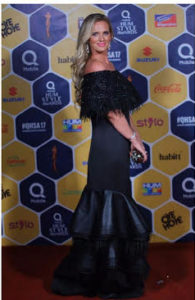 Not leaving the men far behind we had Usman Khalid Butt who it seems loves to take risks with his looks and gets
away with almost everything! Check out his look below which he rocked to perfection.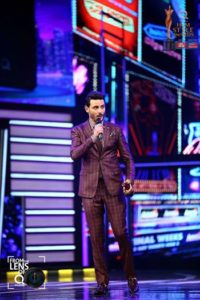 And Finally the Ubar handsome Hamza Ali Abbasi himself who donned some desi threads and looked stunning as
always. We just wish he had lost the patka. Karachi nights are far too hot for that look presently. But of all the guys
we at Team Tvinkal thought he rocked the most!
So here are our fav looks at Tvinkal for the Q Mobile Hum Style awards 2017. Feel free to share yours!