Chicken Cashew Nuts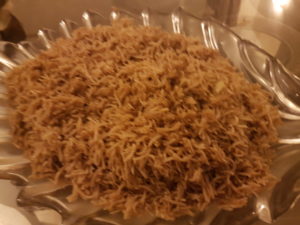 Sharing my Daughters fav food with you. Don't know if this is a Thai
dish or a Chinese one.
I just sort of concocted it in the kitchen one evening but it has a
beautiful mild flavor and it is my go to dish when entertaining as it
always gets some of the best reviews on my table. Serve it with Garlic
Rice the recipe to which you can find here and I am penning the recipe
to the chicken Cashew gravy for my readers below.
Ingredients:
3/4 Cup raw cashew nuts
2 chicken Knorr cubes
½ KG dressed chicken fillets cut in longish strips
1 can of mushrooms chopped
10 green chilies thinly cut in longish strips
1 stem of green onions thinly cut in longish strips
White pepper powder to taste
Salt to taste
Oyster Sauce 4 tbsp.
Method:
Heat about ½ cup of cooking oil in a wok and add the cashew nuts to it. Keep the heat low as they turn brown very
quickly. When toasted to a warm light gold remove from the pan onto a paper towel to garnish the dish in the end.
Now add the chicken strips to the oil. Lightly sauté keeping in mind that this is a very delicately flavored dish and
you don't want to overcook the chicken as that will make it stringy.
As soon as the chicken loses its pink tinge and starts turning white add the chilies and the mushrooms to it and fry
together for about two minutes. Add 1 and ½ cups of water to the wok now and quickly add the chicken cubes. Now
add a little more than ¼ tsp of salt and the same amount of white pepper to the wok.
Stir and ensure the cubes have dissolved and then add the Oyster Sauce.
Taste the dish to see if you need a little more salt and pepper. Add the green onions and just 2 tsp of corn flour
dissolved in water to slightly thicken the gravy.
Garnish with the fried cashews and serve immediately.