Our very own Ayesha Khan who was quite the Diva of Lollywood has ended her career and decided to tie the
knot and peruse marital life in true desi style! Kudos girl! We at Team Tvinkal like that and our rooting for you all
the way!
However we aren't going to talk about her choices or her reasons or Major Uqbah because quite a lot has been said
about that already! We here at Team Tvinkal just want to share our views on her peeeerrrfeect choice of wedding
apparel day after day.
So here goes…..
Maiyoun
A simple saffron jorra with a ghoongat and floral jewellery. A no makeup look! Girl you had us floored on day one
only! Please note the artfully disarrayed hair and the absence of any gold! Beautiful!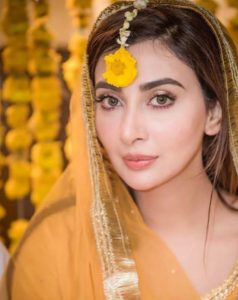 Mehndi
And the gold and dark crimson was a stroke of genius. Notice how the bride and groom have coordinated their looks
on this day and still look elegant. We love how her jewelry is so traditional with the fat maang tikka and the sat larra
haar! Good going girl.
Nikah
The mint green gharara, the traditional choker and the old school draping of the Duppata, to say nothing of the
beautiful queenly hairstyle! You rocked this to perfection girl! As did Major Sahab. He color coordinated without
looking effeminate….. Ahem!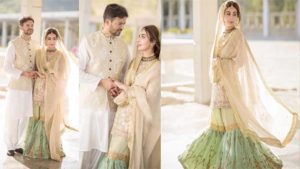 Barat
Just when we thought these two couldn't up their style game we see Major Sahab in a white sherwani and peach
Kulla and Ayesha in this super cool peach wedding ensemble. You two are now firmly entrenched in Team Tvinkal's
Hall of Fame for a couple with their style game on point. Have you seen her gorgeous understated diamond jewelry?
Goals we say!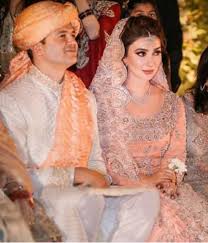 Valima
The only day when the two didn't coordinate and well hello why would they?! The Groom rocks his Army uniform
like an old world hero and hello even though you look beautiful Ayesha, our eyes and vote lies with the Major! He
stole his lovely Bride's thunder here.
Team Tvinkal wishes them a happily ever after as happy and wonderful as their wedding.
Search Keywords:
LollywoodDiva | Reviews | TeamTvinkal | People | Celebrities | ThePerfectWeddingEnsambles | LlollywoodDiwa | PerfectWedding | Wedding | AyeshaKhan  | Diva | Lollywood | DesiStyle | KudosGirl | MajorUqbah | Maiyoun | Mehndi | Nikah | Barat | MajorSahab | Valima | Ayesha | Major | Style | Fashion | FashionDiva | PakistaniFashion | Trends | PakistaniTrends | Pakistani