So we started our journey from Johar town at 6 am sharp after enjoying a heavy breakfast  of "desi ghee ka paratha" and double yolk fried eggs(courtesy of a close family friend who owns a poultry farm), we got on to the  motorway and reached Isloo at 8:45.
During the drive at motorway there were some heart stopping moments when we saw the motorway police (as we were doing a cool 160 km/h) LOL!
But luckily we escaped being challenged for over speeding.
From Isloo we got topped up on fuel and then got on to the Murree expressway. We reached Murree at 10:15 am to be greeted by a mass congregation of fellow human beings who like us wanted to enjoy the beauty of Murree. After wasting two hours sitting in the car (without setting foot on land) we managed to get out of Murree and traveled on to Nathiagali.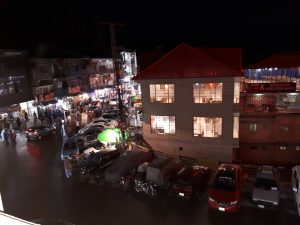 Nathiagali was its usual beautiful self and despite the vehicle and foot traffic presented a picture of calm and serenity.
Hotel Elites where we had decided to stay is located half a km outside Nathiagali going towards Abbottabad. We were very happy with the environments of hotel Elite. Our room which was an executive room lived up to our expectations. It had a breath taking view of the valley below with Wi-Fi, flat screen TV, excellent furnishings and high standards of cleanliness. The washroom was also very clean and decent sized.
Service was excellent. For a very comfortable double bed, sofa cum bed and a mattress we paid PKR 14000 per night. This also included breakfast buffet for 2 adults and our 3 year old; for the 2 young ones, we paid PKR 200 per head for breakfast.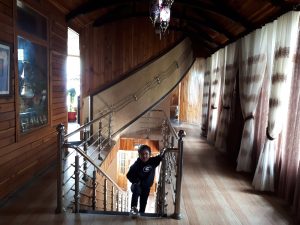 After getting checked in and getting settled we decided to have lunch in the hotel and proceeded to their dining area where we ordered chicken handi and dal mash with hot tandoori roti. It was the perfect therapy after our long journey!
The food was freshly cooked and served hot with a pleasant taste and good flavor. Portions were quite generous and easily satisfied our Punjabi appetite. But the bill was a bit on the heavy side. Their dining area is excellent with huge glass windows giving you a breath taking view of the surrounding forested hills and valley. Their dining area is huge and can easily seat more than a hundred people at a time.  Their liveried staff is very courteous and eager to please. Lunch over we retired to our room for a
siesta to recharge our batteries for our evening visit to the Kasbah. It had started raining and the weather had turned chilly, this coupled with our fatigue from travelling and bellies full of food we all dosed off. After a couple of hours  we got up refreshed and headed for Nathiagali bazar where we stopped at the first artifact and local clothes shop in search of Farens. Farens are Kashmiri kurta for women having brightly colored embroidery on them. The guy didn't have them so we moved on to the next shop who also didn't have them, but was kind enough to name two shops who dealt in Farens ad from where Bakhtawar bought some at a reasonable price. After strolling around in the bazar where the throng of foot traffic was reasonably decent we headed to Taj Mahal hotel for the famous Pathakha chicken. Taj Mahal is one the oldest restaurants (dhaba style) on that strip and inventor & pioneers of Pathkha chicken. Pathaka chicken is a whole chicken fried + put in a tandoor laced with red chili flakes. The result is a sumptuous dish very spicy but surprisingly having no after effects synonymous with the intake of chili; that is, no watering eyes, running nose, burning tongue or sweating glands.
We had two whole chickens with hot tandoori roti and then made our way back to the hotel. The bill was quiet reasonable and as we were leaving, an advance guard came with the owner to inspect the seating arrangements for approximately 70 people (army officers with their wives). On the way back we stopped at one of the coffee machines serving "shoo shoo coffee" (a local invention termed so from the steam which makes the shoo shoo noise) and drank cups of strong sugary, yet creamy coffee.
It was still drizzling and the weather was really cold, but we were snug in our jackets and sneakers and returned to the hotel to snuggle in our warm beds and prepare for our adventure scheduled for next day.
Stay tuned for our next post which is a review of PC Bhurbhan. Until then, Ciao
Search Keywords:
Blog | GuestBlogger | AStayAtHotelElitesNathiagali | Travalogue | TravalogueReview | Review | Lifestyle | LifestyleBlog | BestPakistaniBlog | BestLifestyleBlogSite | GuestBlogger | BestPakistaniBlogger | BestFemaleBlogger | JoharTown | Motorway | Isloo | MurreeExpressway | Murree | Nathiagali | HotelElites | Abbottabad | HotelElite | PunjabiAppetite | Kasbah | Travelling | NathiagaliBazar | Farens | KashmiriKurta | Women  | BestPakistaniBlogger | Bakhtawar | PathakhaChicken | TajMahal  | Dhaba | DhabaStyle | Style | Restaurants | TandooriRoti | ShooShooCoffee | PCBhurbhan | Ciao