An avid SciFi fan there is hardly a movie I don't watch especially if it's a Marvel or DC product.
However the bar now has been set so high in terms of Graphics, Characters, storylines and even humor which is a relatively late edition to the Science Fiction genre that anything that doesn't challenge your imagination fails to impress.
From the humor to the story to the effects Antman and the Wasp was mediocre at best and lackluster at worst.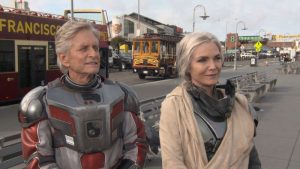 If there wasn't the presence of Michelle Pfeiffer and Michael Douglas the film would not even have enlisted a review.
Paul Rudd made a fairly humorous lead but something about his timing was off making the jokes funny enough for a smile and sometimes even a smirk but never comedic enough for a laugh.
Total waste of time. If you are bored go watch Jackpot. At least it will encourage Pakistani Cinema?
Search Keywords:
SciFiFan | SciFi | ScienceFiction | SciFiMovie | ScienceFictionMovie | SciFiMovieReview | ScienceFictionMovieReview | ScienceFictionFan | Movies | MovieReview | Reviews | MarvelProduct | DCProduct | Antman | Wasp | AntmanAndWasp | AntmanAndWaspMovie | Hollywood | HollywoodMovies | International | InternationalMovies | MichellePfeiffer | MichaelDouglas | PaulRudd | HumorousMovie | Jackpot | PakistaniCinema | Pakistani