Ideas Flagship Store Launch in Faisalabad
IDEAS has a certain panache and we keep seeing diversity and creativity in their stores across the country. This time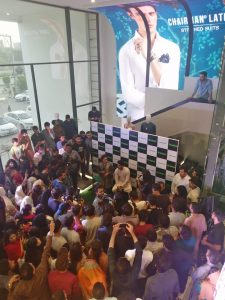 around they have come up with an exclusive flagship store in Faisalabad which sprawls over a staggring 14,000+ sq feet!
But as if that wasn't enough this flagship store comes equipped with Pakistan's largest SMD curve screen which is over 18 feet in height and 16 feet in width and has been installed by the company which has done the same for Mercedes-Benz stadium and Piccadilly Circus. Impressive quite!
Well it doesn't actually end there…. In another bid towards exclusivity the store has a dedicated tea bar for ALL walk-in customers along with multiple sitting spots to enhance the overall shopping experience. Good news is that smaller versions of this giant store will be popping across the smaller cities across the Country soon! It's a great initiative actually for smaller towns that usually don't get to experience the posh shopping experiences of the larger metropolis cities! Heads up to IDEAS for such a great venture.
The opening of this Flagship store was just as grand. To celebrate the opening of this grand store, IDEAS hosted an event which was attended by none other than the versatile Mohsin Abbas Haider and the stunning Nimra Khan along with Faisalabad-based bloggers!  The lucky customers who became part of the event participated in a Q & A session, winning and snapping selfies with the stars while shopping too! Doesn't really get any better than this!