Finally we see someone come into the arena to design Western Wear keeping our Eastern sensibilities in Mind.
Saba Khan who is about show her first collection of Western
Wear in a very high profile Exhibition on April 28, 2018
is all geared up with her vision of Affordable and wearable
Western Wear for Pakistani Women.
Primarily she is designing for the average Pakistani Working
Girl who can wear the chique Shirts and long dresses to
work and otherwise without being hesitant about its appropriateness.
Saba has been designing for friends and family for a considerable time now and is now going to exhibit in Karachi
Lahore and Islamabad this year with her e store launch scheduled for early next year.
I had a fun session with her exploring her personal life and her fashion aspirations. Down to earth and bubbly she
has a very clear path set out that she means to follow with her brand C'EST LA VIE.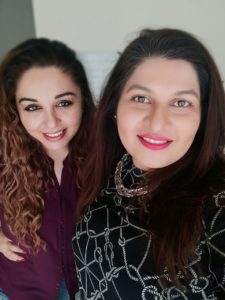 Her clothes that I explored were fun, colorful with good stitching and details at the
same time were not heavy on the wallet!
Her exhibition is by invite only and she can be contacted for business inquiries
through her page!
Wishing Saba the best of luck on her upcoming venture! We need more of these
thoughts to come into Mainstream Pakistani Wear!
You can contact her on:
Search Keywords:
Trends | Brands | Clothes | Fashion | Reviews |  NewKidOnBlock | CESTLAVIE | LatestTrend | Pakistani | PakistaniFashion | PakistaniFashionIndustry | Desi | DesiFashion | FashionIndustry | PakistaniTrends  | WesternWear | Eastern | Western | EasternWear | SabaKhan | WesternWearCollection | Exhibition | Exhibition_April_28_2018 | PakistaniWomen | Karachi | KarachiExhibition | Lahore | LahoreExhibition | Islamabad | IslamabadExhibition | PersonalLife | Clothes | PakistaniWear | CLBBYSK | Facebook