Another Marvel Universe. Another group of memorable comic characters and yet another great movie!
The endearing quality of the original were the inane but very charming comedy and very well portrayed common place human emotions and casual dialogue coupled with the crazy story-line and near perfect graphics!
Volume 2 has succeeded in delivering most of the same.
I need not give a spoiler alert as I am not going to be divulging any of the movies key points! However there really isn't any big spoiler as the story line of the movie is just a thin thread running through mind boggling graphics.
Peter Quill (Chris Pratt) and his fellow Guardians are hired to safe keep some assets that they then themselves end up sniping! In the subsequent quest for vengeance we find out something about Chris Pratt's lineage.
Baby Groot manages to be even more adorable then Groot himself! If such a thing is even possible of course. And Bradly Cooper as the Rocket Raccoon is as always most entertaining.
A mini planet that plays a big role in the movie finale named Ego showcases a fairy land of such sweetly beautiful proportions that it leaves one breathless.
As anticipated the movie has broken all previous opening weekend Box Office records on the international market. And even The Fate of the Furious has been surpassed.
All in All great paisa wasool!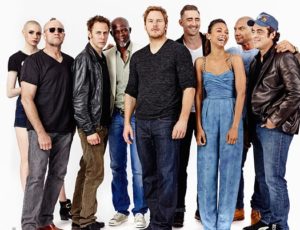 Search Keywords:
GuardiansOfTheGalaxy | MovieReview | Movies | Reviews | International | Hollywood | HollywoodMovies | MarvelUniverse | PeterQuill | ChrisPratt | BabyGroot | Groot | BradlyCooper | RocketRaccoon | Entertainment | MovieFinale | Ego | BoxOfficeRecords | BoxOffice | InternationalBoxOfficeRecords | InternationalMarket | TheFateOfTheFurious