And all I'd been hearing about these past few weeks was how great the food at this newly opened Steak Place CFU was. Before you wonder CFU stands for Catch For You. Yeah go ahead and make what you will out of that!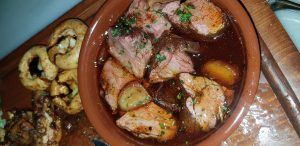 So I asked for a reservation to be made and the next thing I hear is that a reservation has a 3 weeks wait! Wait What?! Yeap you got that right a three week wait. Now that wasn't something I wanted, I wanted to eat at CFU and find out what the hype was all about so I requested the managers number so I could make a call myself. And that is where the surprise began. I ended up with the number of Salman who is actually the owner of CFU and I gave him a call and requested a reservation as early as possible.  He was extremely congenial. Asked what day and time was my preference and managed to get me in. That got me thinking about the relationship that this place was creating with the people who eat here. I mean it
was pleasant and surprising and certainly left me with a good feeling about the coming dinner I intended to have there. Btw readers they only serve dinner and aren't open for lunch! Yeap make what you will out of that too!
So last night I ended up at CFU and to my surprise found that it was a small cozy place with the ambiance being purely functional. I did expect a certain chique vibe from a place that was rumored to be as hot and fancy as CFU but no it was just about the bare minimum requirement but I didn't get much time to reflect on that as pretty soon Salman came over to say hello and introduce us to the place followed closely by Khurram. Now Khurram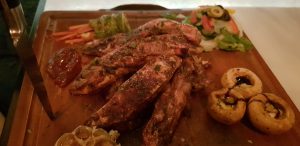 apparently is the cooking partner and he took our orders himself discussing in detail what our food preferences are all about crouching by our table all the while. He was very patient with both my dad and my daughter who were at a loss after checking out a menu that gave them only a choice of their meat preference and level of spice. As per Khurram's recommendation I left the cooking of my beef steak up to him. While we were waiting for our food we had Salman, Khurram and a number of Serving Assistants popping by our table to talk to us about our food expectations, any requirements we might have and just general small talk. They were frequent enough to be friendly and did not come often enough to be annoying! By the time our food arrived I was firmly in love with CFU. They didn't need décor or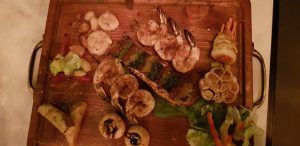 fancy table props or anything else. The place was all about the personal touch and everyone on my table loved it!
Fortunately we had ordered in such a manner that Chicken, Seafood and Beef all landed at our table which are the three meat options you get when you dine at CFU. With sidelines such as creamed spinach, grilled mushrooms, charred garlic and fancy pickled veggies we had trays of food that looked capable of delighting any palette. My only question was will the food live up to the hype and the answer is Yes Most Certainly! Each kind of meat was cooked to perfection with my beef being probably the best I've had in Pakistan and that's saying a lot considering that the meat was locally sourced and procured. Light, perfectly portioned and delightfully prepared CFU was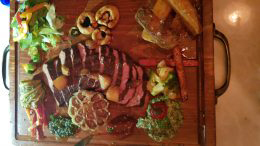 everything I had heard about it and more. If you are a fan of steaks or even good food you better scram to make a reservation here. Don't forget to order desserts. Even though outsourced the selection of cheese cakes are delightful. CFU is an experience not to be missed.
Search Keywords:
SteakPlaceCFU | CFU | CatchForYou | Reservation | HotAndFan | PersonalTouch | Chicken | Seafood | Beef | CreamedSpinach | GrilledMushrooms | CharredGarlic | FancyPickledVeggies | Pakistan | CheeseCakes