Today I went over to the studio of Irum F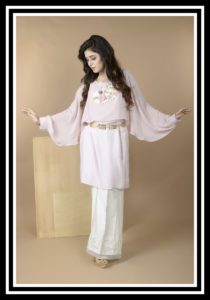 awad to pick up a kurta or two and had a
chance to see her entire range of semi formals and formals and I was floored.
She stocks at Labels I know and I'd seen a friend wear one of her creations but I
actually liked what she had in her sample collection for Eid. With colors that are oh
so Pakistani Summer Appropriate….. I saw a palette of Mint Greens, Peaches,
Creams and Pinks that gave the word pastel a new dimension!
Tastefully yet artistically embellished she has a lot of 3D floral details, cuts that
are a fusion of the East and the West and impeccable stitching.
Her bridals are a hot favorite among Pakistanis and Indians alike Abroad and take up a chunk of her time but she says that's one challenge she loves the most. By the way girls…
extremely well priced Bridals I must say!
What I really liked was the stock of lowers she had. Beautifully embroidered and embellished pants in a range of
neutral colors and even Duppatas to match if you so desire.
Pick up the pieces stitched or unstitched as she goes to all lengths to customize for
her clients. Being in this business for more than one and a half decade so she really
knows how important clothes are for women.
So for all you girls out there check out her fb link below and look no further for
that Special Eid Jorra that will flawlessly translate later into a collectable for your
wardrobe.
Search Keywords:
IrumFawad | EidJora | EidClothes | BridalCollection | Designs