If you are a discerning viewer you might not like the constant portrayal of the Russian society as
an oppressive culture that only seeks to empower the state on the cost of its citizens and is
predominantly a country that does little to value humanity and women in general.
After all who better than us Pakistanis to know that such portrayals are inconsistent with modern
ground realities.
However if you can get over your initial qualms about the portrayal of CIA as some benign God of
moralistic endeavors and Russia as a Country that still struggles behind the Iron Curtain then you
can certainly enjoy the movie.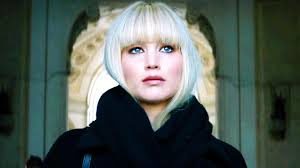 The plot is fast paced and the script not so well
adapted from the Book by based on a novel
written by former CIA
operative Jason Matthews which was cleaner if you can say
that about a spy thriller.
Watching it in Pakistan meant that a graphically sexual movie like this ended up with half of its
content on the censor table but even then it was chopped in a manner that left some of the story
intact.
Jennifer Lawrence of the Hunger Games fame teams with the same
Director Francis Lawrence for this movie and her portrayal of a Prima Ballerina who loses her career in mid stride
and due to some unfortunate twists becomes a sexual weapon in the hands of the state might not be
brilliant but it was enough to carry the movie through.
If you are faint hearted do not watch this movie as it has some graphic torture scenes and certainly
portrayals that keep you cringing and on edge throughout the duration.
Search Keywords:
RedSparrow | MovieReview | JasonMatthews | Russian | RussianMovie | RussianBlog | Blog | Russia | RussianSociety | JenniferLawrence | HungerGames | FrancisLawrence | PrimaBallerina | Movies | Reviews | InternationalMovies | HollywoodMovies | Hollywood | International