I always thought Komal Rizvi was beautiful but I was not expecting the drop dead gorgeous woman I met today.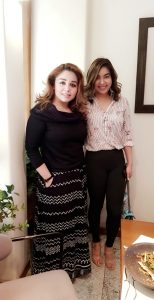 Her pictures and videos and the Plays do not even begin to do her justice. She is super fit with an aura of chique elegance that catches the eye instantly. And guess what, not only is she stunning but she is also vivacious, bubbly and has a great sense of humor! Of all the things I learned about her today on her work front, what lingers with me the most is her relatability. She has an easy going charm that makes you like her immediately and she carries her charisma as a star effortlessly!
I was totally floored by her positive and friendly vibes when she came in and it just kept getting better while we had a chat over some salad.
Komal has a lot of accolades heaped up for someone so young. From Acting to being a Singer to being a VJ who did us proud across the border she has excelled in everything that she does. From being the youngest Pakistani Singer with an International Solo Album to having hit dramas when she ventured into TV this girl conquered all she attempted.
What is a little lesser known fact is how Komal Rizvi is jet setting all over the world because she is almost always
doing concerts. A little digging revealed that Komal was doing Public and some prestigious High Profile Private concerts constantly. That came as a mild surprise to me as I had no idea that she had such a huge fan following abroad and especially in the United States!
She is constantly travelling back and forth between Pakistan and the US of A, dividing her time between the two countries because of the sheer quantum of her work. Of all our A List Female Singers, Komal is doing the max amount of Concerts abroad and I at least was super impressed.
With half a dozen successful singles behind her in recent times we are looking forward to more music from her soon and hope that she will also be venturing into Movies as Paki Movie Music is my latest obsession and Komal would certainly be a great addition there!