Raeed Alam: An Eye Opener!
I know Raeed Alam as a superb Director/Actor with a handsome boy next door look…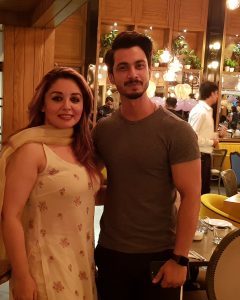 Just goes without saying that I would want to meet up with the hunk and get to know him a little better! (Winks)
Imagine my surprise at meeting an exceptionally well mannered person (I can't help but really take a shine to people with superb manners) who was grounded with a charming smile and a disarming demeanor.
But that's just the surface. I ended up spending a few hours with Raeed and got to know that the contagious smile and easy going personality hides a passionate young man who takes his craft very very seriously! He started out as a director and went on to act just so his direction would be a holistic 360 degrees precise skill where he understands what goes in front and behind the camera. A solid technical approach that I have very seldom seen in our Pakistani Industry and which made him all the more interesting.
He had a passion for the way things were shaping up on the Pakistani Entertainment front that was not personal but holistic and inclusive. In an industry where personal growth is on everyone's mind a passion so inclusive with an overriding sense of responsibility was extremely impressive!
We need more men and women of substance like Raeed Alam.