How to Style an Ethnic Kurta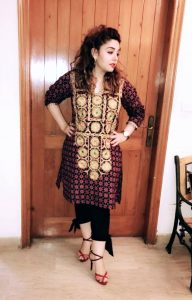 I often go to day long Road Trips with my family especially when its winters in Sindh. My last trip was a day long excursion to Hala and its vicinities. Apart from the excellent food and some awesome Handmade Ice cream (read all about my trip to Hala here) I was able to stop at a wholesale handicrafts shop in the heart of the Hala Bazaar and crammed in as much shopping as I could! The Kurta you see me wearing here is what I picked up from there for a staggering 1200 rupees! All hand Worked and Hand Printed with Organic Dyes it was stitched to boot!
Today I wore it for the first time and styled it with capris from Daman and Peep Toe Heels from Charles and Keith.
An Ethnic Statement Ring that I picked up from the Grand Bazaar in Turkey, Chand Balas and a Watch finished my look. I kept my Makeup Basic with a matching Plum Lip and lots of Kajal to pay homage to the ethnic kurta.
Follow us for more Style Diaries and Outfit Inspirations!