A horrible Fashion Faux Pas!
And a celebrated Fashionista can sometimes make a horrid fashion mistake. And that is exactly what seems to be
the case with our Bollywood Diva Priyanka Chopra.
One we see her looking her age. She is well preserved yes. Her face fresh yes but she does seem to show every one of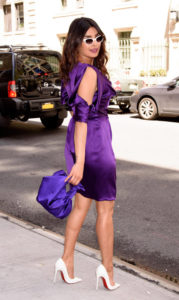 her 35 years unfortunately!
Just recently we encountered her picture in a purple satin dress with
white high heels and horn rimmed white
framed sun glasses!
To add to the entire nightmare she carried a purple satin bag!
The lady needs a refresher course on what accounts s good street style
and this look was downright horrific!
Ladies please take note. Full satin dresses are either for evenings or very
formal day occasions. We don't pair white
with screaming dark shades and our sunglasses really should be age
appropriate!
Search Keywords:
Priyanka | PriyankaChopra | FashionFauxPas | TerribleFashionChoice | Fashionista | BollywoodDiva