Wajhi Farooki is a bundle of laughter, good humor and charm! That was the first impression I got of him when we met up over a coffee today. Over the course of the following almost two hours I realized that this power house of a musician who has transcended the boundaries of two countries with a love hate relationship has a solid grounded personality to go with his charm.
Pssst…. Girls he loves to party and is quite the single Hunk so take note!!!!  😀
Having lived in India for several years and working with the likes of Mahesh Bhatt with hundreds of shows per year under his belt I never expected to find a star who didn't even drop a hint of arrogance during our entire conversation!
His musical talents that led him to create an Indo Pak Band and quite a successful music career on both sides of the border is immensely fueled by his passion for his profession.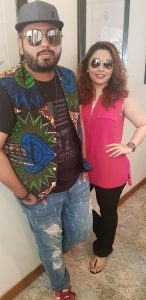 I riddled him with questions and turns out he started off in India on a successful footing from day one. With movies like Zanjeer under his belt his claim to fame in Bollywood is pretty legit. His band which he has named Raeth is based out of Mumbai which is his favorite city in India after Darjeeling. What came to me as a surprise was that despite the tensions that recently escalated between the countries he still had ease of passage but decided to return back home a couple years back to ensure his personal safety.
Since being home he has taken over the world of Pakistani Music by storm and has a string of successful songs under his belt. With more than a dozen OSTs in the last one year with the OST of Shadi Mubarak Hou an immediate big hit, Wajhi now has his eyes on the Pakistani Film Industry. Having worked the movie circuit in India he wants to now be able to contribute to the musical score of Pakistani Movies also.
Frankly I found him to be honest and discerning with a keen interest in the developing Pakistani Entertainment Industry and the nation at large. Suave, worldly and intelligent he is a lot of fun to be around and certainly very accommodating because I kept requesting him to belt out a tune or two for us! He's got some upcoming projects that we are keeping an eye out for and we will keep you posted on that!