Once in a while you meet people who are free of any pretensions are down to earth, direct and just happy by nature.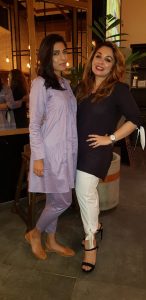 Falak Ahmad Sheikh the Queen of the Pakistani Fashion Ramps is one such person.
With a sweet sweet smile, a gentle demeanor and disarming honestly she steals your heart right away.
We met over coffee and some gupshup a few days back and I enjoyed every minute of my conversation with her. She spoke at length about the dark days in her life when her dad passed away and then being discovered consequently for a fashion show walk and frankly her life story felt like it came straight out of a book. A book where a very courageous young woman has her dreams come to reality.
The best part of the time I spent with Falak was that I discovered that she sang like an angel!
With a natural ear for melody I requested her to hum a tune and just fell under the spell of her beautiful voice. Here is to wishing her all the best in her new venture into singing. I have attached here her song so all my readers can enjoy her angelic voice too!