Diva is as Diva does and a few minutes in the presence of the charismatic Nadia Hussain are enough to know that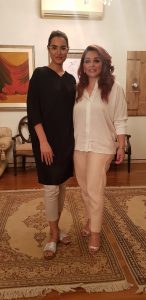 this babe is a total Diva!
I met her pretty late at night as her schedule is jam packed and she works nonstop. But even after a long long day she had a gracious smile, a fresh face and an energetic vibe!
Super impressed I was because she juggles her career and her home and her kids effortlessly ensuring she maintains a healthy balance. Looking at her you can never tell that she has grown up kids and talking to her about her family you would think she does nothing but spend her days looking after her kids. The stuff of super moms, she is a perfect example of a successful Pakistani Boss Lady with Beauty and Brains in abundance.
Talking with her about family, kids, her makeup line and her saloon I realized that in spite of her fame and success she is totally grounded with an efficient no nonsense approach!
We need more babes like this one to lead by example and personally I am super impressed with her. Way to go Nadia!