A Coffee Date with Chef Mehboob
I have always totally been an admirer of Chef Mehboob. I find his recipes are simple and easy to follow. His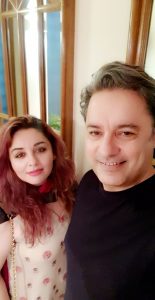 ingredients main stream and cooking time sensible. I've also always thought that his cooking advice is easily followable and certainly doable and hence after these lines I guess everyone would know he always has been my fav chef on TV always!
Alright so now that that is out of the way I'm sure you my dear reader would know how super excited I was to meet up with him in person and get a chance to write about him! So off I went with mixed feelings about my fav chef and boy was I surprised or what. Of course we know he's good looking because we see him on TV but the screen doesn't even begin to do justice to his charisma. An easy smile lots of charm and a wicked sense of humor I didn't even know that I had been chatting and laughing away with him for close to 2 hours!
Coming from a conventional business family he told us that his choice of career was at odds with his family setup. But it seems everyone in his family has an excellent taste palette and all one dozen of his siblings are great cooks and also quite the food critic gang!
Anyway from star gazing to travelling and from cooking to getting tattoos Mehboob has quite a wide range of interests. Humble funny and with an extremely positive outlook on life he is the man!