At 0700 hrs. left DHA Karachi for interior Sindh with family. Purpose was day long visit to Bhit Shah and Hala about 230 KM journey. Bhit Shah is a small Town of District Mitiari. The town is best known as the location of the shrine to the Sindhi Sufi poet, Shah Abdul Latif Bhittai, who gave his name to the town. Perfect weather for such excursion. Visibility and traffic flow was good on Karachi-Hyderabad Super Highway now named M 9 and transforming into Smart Highway. Steady cruising at 110-130 km was comfortable. After a brief stopover at a filling station ahead of Noori Abad to refresh and stretch out, arrived at favorite wayside Sindh Palari Restaurant near
Hyderabad Bypass. Their fresh milk Doodh Pati is flavorsome. Couple of bites of their Parathas with tea was even better. After bypassing Hyderabad City, got on to Main National Highway, Karachi-Torkham, 1819 KM (N 5). Travelled frequently on N5 while operated undercover in Sindh in late 1970's. Recent uplift has done much good to it.  By 1015 hrs reached Bhit Shah. Straight headed for Sufi Poet Shah Abdul Latif Bhithai Shrine (1689-1752). After offering Salam and paying homage went around various parts of the galactic Mazaar. Striking and remarkable deed by one Dewan Lal Chand Ashwar Das s/o Tola Ram is noteworthy. On the entrance of Shrine there are two kiosks for shoe keeping and provision of water for the visitors free of charge. It was a pleasant surprise when his two Muslim employees operating these stalls refused to accept even gift money I offered for the praiseworthy services being rendered. When inquired about Dewan Lal Chand, it was revealed that he was an ordinary person but now is a rich businessman. He attributes change of fortune to Shah Abdul Latif Bithai being his follower. Beside a General Store and other business he owns Ice factories in the town and in summers donate ice for the provision of cold water for the visitors. Beside management expenses of referred places, he would be paying substantial amount to get the contract. Wanted to go and meet this devotee to laud his services but due to paucity of time couldn't do so.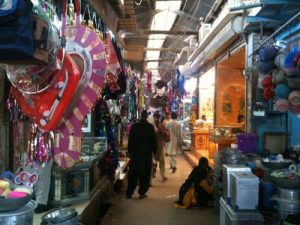 By midday arrived at Hala which is less than 10 minute drive from Bhit Shah. On arrival gave HAZRI at Dargah Hazrat Makhdoom Sarwar Nooh. Hazrat Makhdoom Sarwar Nooh was a great saint of his era. His roots connect with Islam's first Caliph Hazrat Abu Bakr (RA). He was Suharwardi line of worshiping style. The descendants line up to its 18th Sajadah Nasheen, Late Makhdoom Muhammad Amin Fahim, who sat on the seat after his father (Makhdoom Muhammad Zaman Talib-ul-Mola), a renowned scholar, poet, and leader of his time, who passed away in 1992.
After Ziarat, shopping commenced. Sindh, often referred to as "Bab-ul-Islam" (Gate of Islam), has been and still is very rich in handicrafts. The textiles are very famous especially Ajrak, Rilli, hand embroidery, block printing and tie-and-dye. It also enjoys a reputation for pottery, clay, lacquer furniture, leatherwork and carpets. The town makes pottery of various shapes and sizes that is famous for the hand-painted designs imprinted on them. The most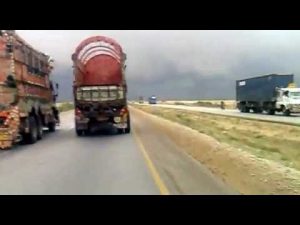 popular colors are cobalt blue, turquoise, purple, mustard, white, and brown. Hala pottery has a high demand both in Europe and in the Middle East. You will have an exciting time if you decide to visit the town. Throughout its streets, you will find workshops, which are more like pottery yards than actual factories. They are not well-designed like some of the modern pottery studios you may expect to find elsewhere. Some of the workshops have been down through generations for decades. The yards have an organic, earthy feel to them with the borders marked by just brick walls. The apparel produced in Hala is made with some of the oldest handlooms in the world. These are looms that date back to the civilization of the Indus Valley. These hand-woven cloth locally known as "KHADI" has been exported to various countries globally since ancient times. Beautiful colors and excellent quality KHADDAR of vast variety and Hala BOSKI for men is a novelty.
Even after more than two hours of shopping, it was hard to extricate the family from the shopping paradise although everyone was quite hungry after early morning breakfast. Finally, reached at Super Madinah Restaurant for lunch with quite big and comfortable family Hall. Food standard was good. It wasn't before 1600 hrs. that we were done with a scrumptious lunch followed by a very nice fresh milk tea. On way back stopped briefly at Mitiari to taste its famous ice cream. From there drove nonstop to Karachi arriving there by 1930 hrs. after twelve hour memorable jaunt.
This Post has been Contributed by a Guest.