I am not waking up at 5 am on a Sunday to visit some place in Baluchistan which has a legend more far fetched then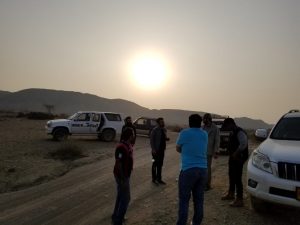 that of Romeo and Juliet (at least the earth didn't open up to swallow them both so they could be forever together)!
But as it turned out that I being a ridealong member of the Karachi 4 x 4 club couldn't dictate club policies 🙁
So here I was all set to go to Sassi Punho on a Sunday at 5:30 am thinking the only good thing about today would be the wet payya party that I was invited to that night, but as it turned out the trip was a great eye opener for me not just for fun sake but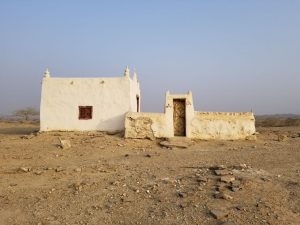 also about what people not even 100 km away from Karachi live like.
The drive to sassi punno was a joy primarily because of the barren beauty found in Baluchistan but also for the comradeship that comes alive when you take trips together with others.
The shrine of sassi punno is like an oasis in the middle of the desert and there were two tea restaurants serving the wood fire tea which you cannot describe and is defiantly better then any of the tea we have in Khi cafes.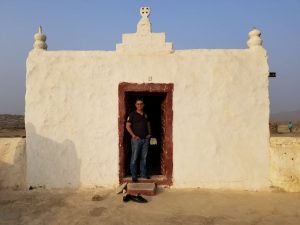 Men seemed to converge onto these tea places from every direction, but trust me you couldn't see any habitation for miles and miles.
The Shrine of Sassi Punho is revered amongst the natives and we spotted quiet a few people having made the journey from Karachi on bikes. At their age only romantic notions and the dream to be a legend in love brought them this far through the tough terrain I'm guessing!
Though the journey "Paraos" could be found after a little distance. These are community buildings with a little room, kitchen and a mosque. Shepherds stay here the night in case they get late and are open for all to use.
It is unfortunate how visibly tough the life of these people is. No free flowing water, electricity, sewerage etc. But in their favor not one person out of them seemed bothered. They were too busy in being hospitable and narrating the legend that is Sassi Punno.
Nearby is a jeep rally track which of course garnished great interest from the 4 x 4 crazy guys and we set off to the dried out river bed to do a bit of "drifting".
Here again we were served tea by the locals free of charge, however we managed to get them to share our fruit with them. All focus of the natives was on the guy with the camera!
Trip rating: 9/10 primarily for the education I got about my country and not to mention the countryside and hospitality of the Baloch people.