Hello people, this is our first write up for this blog and we hope you folks will like it. Let me start by introducing ourselves, we are Zarrar & Bakhtawar and have three kids. We love road trips and outdoors. In this post we will be sharing our recent experience of travelling from Karachi to Lahore by road. We traveled with our 3 kids aged 8, 5 & 3.
The Vehicle used was a Honda Civic 2015.
We left on the third day of Eid ul Fitr, at 2 am from our house in Karachi. We traveled to Hyderabad on the new Motorway. The journey from Karachi to Hyderabad which used to take more than 2 hours now takes anywhere between 1 hour 15 minutes to 1 hour 30 minutes (hope motorway police doesn't read this). After Hyderabad you go on to Sukkur passing through Sakrand, Hala & Moro. We made a stop at Sukkur at precisely 8 am for breakfast. As we were carrying our own breakfast the stop hardly took 25 minutes. The road was good (having been built & refurbished recently). After Sukkur, we passed through Pannu Aqil and ventured into the Punjab territory.
It's a beautiful landscape which greets you while travelling through Shikarpur and Sukkur. Huge orchards of date trees, banana trees and various others.
While driving through Shikarpur, you can buy "Achar" (pickles) which Shikarpur is famous for. Also all throughout this belt where you see date trees, you will find roadside vendors selling dates and "Halwa" made after boiling dates with butter/ghee and adding different ingredients. It is seriously yummy stuff!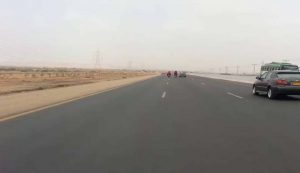 Luckily we weren't flagged down this time at the Sind Punjab border otherwise the usual PKR 1000 "chai pani" would have been demanded by the local police. Actually they start from 3k-5k but in the end settle for 1k if you bargain with them.
This stretch from Sukkur onward till the border is risky and should be made with minimum of stops as this area is notorious for kidnapping for ransom, vehicle snatching etc. Moreover, the vehicle for this and the entire journey should be in perfect roadworthy condition and nothing should be left to chance.
As soon as you enter Punjab, the difference in infra-structure stares you in the eye. From Sadiqabad to RYK, onto Bahawalpur and then a 100 km stretch to Multan (the city of Saints). The road is very good with MP patrolling, mobile workshop support, local dhabas serving excellent food & filling stations of all brands.
From Lodhran, a brand new road leads to Lahore and one can easily maintain a speed of 120-130 km/h. From Sahiwal to Lahore, we encountered some traffic, especially motorcyclists returning to Lahore after the Eid holidays. We reached our destination in Johar town Lahore in exactly 15 hours. This was partially due to less traffic being Eid holidays and the fact that we made bare minimum of stops and constantly drove at high speed.
If long or frequent stops are made or if vehicle is driven at a medium pace, this journey takes at least 18-19 hours.
Search Keywords:
Blog | GuestBlogger | DrivingFromKarachiToLahore | TravalogueEexperience | Travalogue | TravalogueReview | Reviews | Lifestyle | LifestyleBlog | BestPakistaniBlog | BestLifestyleBlogSite | GuestBlogger | BestPakistaniBlogger | BestFemaleBlogger | Travelling | Women  | BestPakistaniBlogger | Dhaba | DhabaStyle | Style | Restaurants | Eid | EidDays | EidCelebration | EidEntertainment | Karachi | Lahore | People | Zarrar | Bakhtawar | RoadTrips | Outdoors | HondaCivic_2015 | Hyderabad | Motorway NewMotorway | Journey | JourneyReview | Sukkur | Sakrand | Hala | Moro | Sukkur | PannuAqil | Punjab | PunjabTerritory | Shikarpur | DateTrees | BananaTrees | Achar | Pickles | Halwa | SindPunjabBorder  | Sind | Sadiqabad | Bahawalpur | Multan | TheCityOfSaints | Lodhran | EidHolidays