Sehri at Burns Road
Yeah it is Burns Road but as per Karachi Tradition I'll just call it Buns Road! Has quite a ring to it no! 😀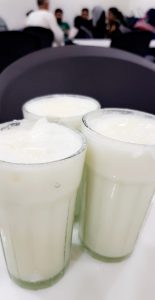 Anyhow my nephew my brother and I decided to forego a more traditional Sehri in our part of Town and drove to Buns Road instead. Already having researched we went straight to Café Laziz that boasts the best Kat A Kat in Karachi. So the first stop was Laziz and we ordered Fried Brain, Lahori Chargha and Chicken Karahi. The food was exceptionally good. I didn't have the Kat A Kat but I am convinced that it really would be the best in town. Even though my fav Brain Masala comes from Noorani Kat A Kat but I have a new fav!
Second Stop was the Punjab Lassi Shop where we all downed Meethi Lassi with cream! Not even thinking about the calories here!
And Finally Dilshad Matki Kulfi which had three flavours, Pistachio, Zafran and Cream. Hands down the cream one was the best. The food was excellent, the restaurants hospitable and the price surprisingly low.
But being a thorough Lahori at heart what I loved about my Sehri was how I felt when I went to Buns road today. It felt like I was wondering around in Lakshmi Chowk and that's no small feat for a girl who never went to buns road in her decade of living in Karachi thinking it would never compare to CharBurji….