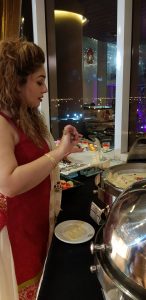 So today we are reviewing the Iftaar Dinner of Ramada Karachi for you.
Frankly I like their buffet hall during Iftaar. The wind, the outdoor food tables and the view of both the cornice and the residential area is spectacular. Also I've always found their service to be flawless so Ramada is always on my list come every Ramadan.
This year the Iftaar began well with a lot of Great items on the menu with Chicken Samosa, Chicken Wings and wontons being of excellent quality. Frankly I loved the lemon infused Rooh Afza too!
The lovely breeze, the fairy lights the rooftop food and then an Iftaar buffet with about 15 excellent items really did put me in an excellent mood that soon turned sour!
The dinner was lousy and that was putting it mildly. There isn't a single thing worth mentioning here except the Fish Tempura which was really nice. Otherwise the barbecue was rubbery the prawns did a disappearing act to be never found again and I really wasn't interested in beef biryani.
Really not worth the few rupees less than 2500 per head that we paid!