Ginsoy Live
Ginsoy on Shahbaz Commercial is certainly my favorite place in Karachi when we talk Chinese. Other than the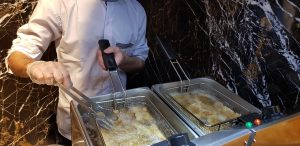 bother of getting advance reservations for the weekend at least a day or two early the rest is all good. So when I learned that they have now introduced a Buffet Dinner I was rearing to go try it out!
Ginsoy Live has an amicable and welcoming décor well balanced to give almost all the dinners a close proximity to the buffet stations. Next to their salad and dessert bar they have a live frying station where you can choose your appetizers like prawn balls, chicken strips, fish and wontons etc. in quantities of your choice and they will be fried and delivered to your table with a soup of your choice!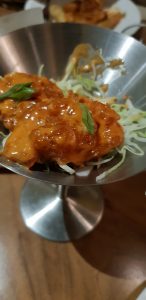 It's actually a pretty good idea and the fact that most of these were bite sized was even better idea. The food itself was great. Slightly spicier then the usual Ginsoy food and with a distinct Thai flavor to it there was a vast variety of dishes that would satisfy almost any palette. My favorite on the menu were the egg fried rice that had an old fashioned flavor to them which reminded me of my childhood Chinese and a chicken in lime sauce that was heavenly!
And even though the dessert bar also packed a punch with a bite sized lemon tart so crisp and tangy that I ate 3 what was truly incredible about Ginsoy Live was the amicable staff.
My mom and I had gone to dine out alone that particular night and we absolutely loved the hospitality at Ginsoy live. From a chirpy welcome to the singular care shown to my mom who has difficulty walking to the special soup sent out for her by the chef, we loved every moment of our time at Ginsoy Live and was just what we two women needed that evening.
I would recommend this place for its great food, reasonable price, the live music and its great hospitality!