A Group of Pakistani Ladies went to Turkey recently under the leadership of Mrs. Nazli Abid who is a high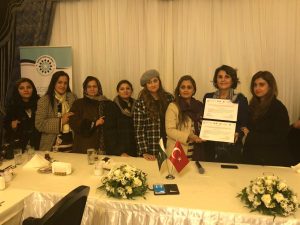 profile Event Planner in Karachi and now the elected VP of WCCI.
Not only that they were also warmly welcomed by the Governor DavutGul Kimdir and Miss Hulliya Akkaya Chairman of the Provincial Women Entrepreneurs!
Representing Pakistan were Mehreen Mansha who is a Literacy Coach.
Lubna Anjum who has her Clothing Line by the name Lubna's Collection.
Uzma Afaq who deals in Raw Leather & Towels.
Amna Kashif who is a Fashion Designer.
Shimmi Khan who has her own Clothing Brand.
And Iqra Asher of IQ Fashion Design Online. 
These Ladies were accompanied by Aftab Alam, Zeeshan & Malik Nasir also, for part of the journey.
However it was these ladies who went and held the first of its kind Trade Talks with their counterparts in Turkey! Their Trip coincided with our PM who was visiting Turkey in the same time frame too and further consolidated our ties with the Turkish Nation.
Apparently these girls here represented our beautiful Pakistan at the Turkish front successfully and came back after signing MOUs and many trade opportunities and agreements with Burhan Akayilmaz the Head of Department Silk Route Agency.
They also had successful talks with Adil Coskun who is the Executive Member of Istanbul Chamber of Commerce for collaboration and launching of Turkish Products in the Pakistani Market
We at Tvinkal are super impressed by how these ladies took this bold initiative as a team under the leadership of Mrs. Nazli Abid and went and did all of us proud! Not only did they achieve Professional Benefits for themselves and found bigger avenues for their Business but they also opened up a limitless area of opportunity for other female entrepreneurs to follow. We are proud of you girls so keep up this great work!!!!