An Easy Shrimp Fettuccine Recipe
Went grocery shopping and picked up whole wheat fettuccine for my daughter as that was on her food list!
Down under is the easy Shrimp Fettuccine I made for her! Easy to make, simple ingediants. Prep time 35 to 40 Minutes and a very impressive edition if you are cooking to impress!
Ingredients
Whole wheat Fettuccine 1 medium sized pack
Shrimps Medium Sized ½ KG
Cream 1 Pack
Oregano a pinch (optional)
Mushrooms 1 Can
Cheddar Cheese
Flour 4 Tbsp.
Olive oil ½ Cup
Garlic a few Cloves
Knorr chicken cubes 1
Salt and white pepper to taste
Preparation
Chop the Mushrooms and the cloves. Set aside.
Boil the fettuccine and make sure it's cooked all the way and ready to be served after mixing with the sauce
Method
Take ¼ cup of olive oil and add 4 table spoons of flour. Sautee till a light golden brown and then add the chicken cubes. Add a few spoons of water and stir. Keep adding water slowly while constantly mixing till you have an even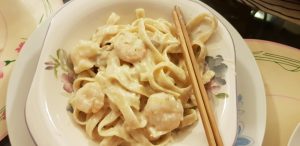 paste. Add the pack of cream. Add salt and white pepper to taste and then the fettuccine. The sauce should not be so thick that it sticks to the fettuccine and neither so thin that it's like soup or gravy. It should be like a light coating. Add just a little water and Let it cook on low heat for 5 minutes while you prepare the garnishing.
Take the rest of the olive oil in a nonstick frying pan and add the shrimps mushrooms and garlic. Cook for about 5 minutes on medium heat. Remember that that is all the time you need to cook Shrimps. When you over cook them they become rubbery. As soon as this is ready mix it with the fettuccine.
Garnish with a pinch of Oregano leaves and serve hot