For Eid this year I chose a Chicken Karri and Gotta Shirt. I'm so happy that long Shirts are making a comeback. Frankly I believe nothing is as flattering to your figure as a ground kissing shirt!
And so my look for Eid was a fresh Green Gotta and Chicken Karri pure cotton shirt that was just a few inches above my ankles with a straight white shalwar. It was comfortable yet fancy enough for an Eid Outfit as I always keep the hot Karachi weather firmly in my mind.
Coupled my jorra with glittery green high heeled sandals from Mango, Silver Bangles and I was good to go for a day when I had extensive amount of cooking to do for the family dinner.
Tell to me if my style diaries are any Pakistani style inspiration to you and if there are particular looks that you want us to focus on.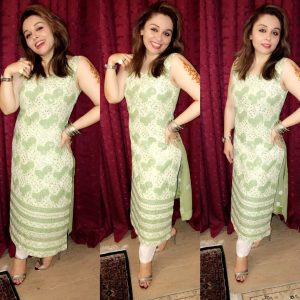 Search Keywords:
StyleDiaries | MakingLawnWorkOnEid | Eid | EidDay | Lawn | Lawns | LawnCollections | Lifestyle | PersonalStyle | Fashion | Trends | ChickenKarri | GottaShirt | LongShirts | MangoSilverBangles | Pakistani | Pakistan | PakistaniStyle | PakistaniInspiration | PakistaniStyleInspiration