Dress socks are having what we call in fashion "a moment". What used to be a really boring, traditional category is now totally lit. Men no longer have to choose between goofy novelty patterns and old-man motifs when picking out a pair. You might not be ready for Dress Socks just yet, but they're ready for you.
However since the trend hit I've seen quite a Guy's few unable to strike a balance. The wrong bold sock can totally mess up a good outfit. However totally from a woman's point of view a bold dress sock really ups a guy's style game and draws attention to his personality but you can only push it that far. Crazy experimenting can easily have you labeled as tawdry, so best watch out.
Let's talk about suiting up and choosing a bold dress sock to make a statement. We've chalked out our dos and don'ts and it is best to at least heed what the fairer sex has to say about this in trend accessory.
Business   
If you are dressed for a serious or high stakes business meeting its best to match your socks to your pant.
However for the bolder maybe a small paisley print or polkas can work too. And if you are a confident player totally owning your territory then a bold tie or a pocket square with matching solid bold color socks is the end game!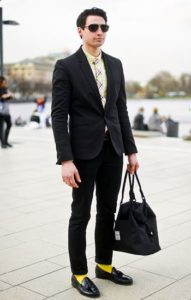 Black tie
Again your personality defines your choice here. We suggest you go with a traditional pattern but up
your game by choosing it in bold colors that compliment your suit. Only make sure the colors all blend and do not contrast. That way the bold will look chic and not dowdy.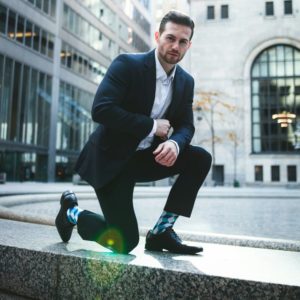 Dinner   
Personally my fav category. Push up your stylegame with ditching the tie and opting for a pocket square instead. This is the time to pull out the really bold ones and have fun expressing your choice.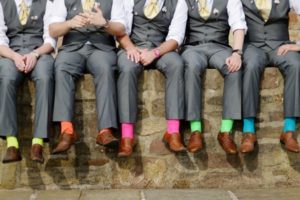 The Don'ts
Need we even say this
Please no white sports socks.
You must never show skin when you sit so socks should be midcalf length.
Please don't wear socks with Pizza, Dolphins and the Mona Lisa on them!!!
Search Keywords:
Tuxedo | DosAndDonts | WhatToWear | NotToWear | Fashion | PakistaniStreetStyle | DressSocks | BoldDressSocks.| TheDosAndDonts | Men