I've brought to you another brilliant Social Diary Collection as the Annual
Flower Show Clifton Karachi!
I've always missed the brilliant Flower Beds along every major roadside of
Lahore come spring for the last decade that I've been living in Karachi. If due to
some chance, I am traveling to Lahore in these months I never fail to stop and just
enjoy the brilliant roadside colors and the lovely canal displays.
But Karachi hosts a gorgeous Flower Show every year that can sate almost any
green souls search to rest.
Once again, it's that time of the year when you can enjoy
brilliant colors, a great variety of flowers and an event that
can be very Educational and Peaceful for your entire Family.
Organized by the Horticultural Society of Pakistan, this annual
celebration of springtime Flower Beds is a must-see for anyone
who loves nature. If you have kids taking them to see, this is a must
to acquaint them with the natural Pleasures of Life.
Date: 1st march to 4th March
Time: 10am to 9pm
Venue: Sea View, Karachi

If you liked today's Social Diary collection, do like this post and comment your shares!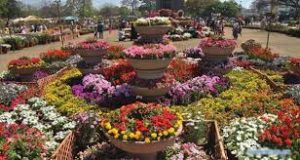 Search Keywords:
FlowerBeds | EventReviews | SocialDiaryCollection | SocialDiaries | AnnualFlowerShow | AnnualFlowerShow_2018 | Karachi | Pakistan | Clifton | CliftonKarachi | FlowerShow