What do I say about a movie that tackles one of the most talked about Villains of recent times. From Jared Leto to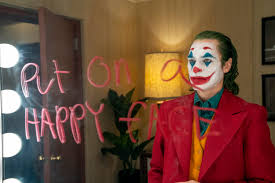 Heath Ledger the Joker has always been darker than dark.
Perhaps one of the most brilliant movies of 2019 (I say perhaps because I totes revere Glass too!) what makes this movie based on the comic book villain The Joker is the fact that it drops all semblance of the Batman Gotham Universe and sets itself up in a Gotham that is eerily what we can relate to as our everyday world.
I am not going to talk about how brilliant the Jokers portrayal is by Joaquin (Pronounced Yakeen) Phoenix and ho the movie is one of those that will stand up as iconic in this decade. Everyone whose read about it or seen it is aware of that much.
I want to talk about how gut wrenching the emotional trauma of an abused person is especially when his soul wants to soar and his world only wants to trample his body.
For me only one sentence that Joaquin wrote on paper stood out during the entire film…
"the worse thing about being mentally sick is that people expect you to behave as if you aren't"
…and that in a nutshell is what Joker is all about.
Expect a roller coaster ride of emotions and turmoil and all things gut wrenching when you see this one. And by the way this movie just should not be missed being watched.