I'd seen random clips of Shumaila Bhatti of course. Being super funny and totally relatable to the Pakistani girl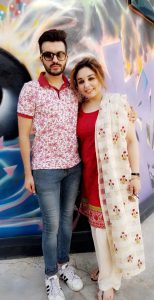 experience they are quite a fav WhatsApp exchange amongst most of my gang. And even though I admired his work I didn't really get to respect his talent until I didn't go see a standup comedy show of the very versatile Muhammad Moiz who had conceptualized and given life to Shumaila Bhatti.
And then I requested a coffee meet up and my respect turned into a genuine fan moment when I got to spend some time with the very handsome and totally charming Moiz! We had a late brunch that quickly turned into a hand slapping laugh riot session because Moiz is not just super funny he is also relatable, articulate, clear headed and very genuine. (Pssst most of the time he was the one asking me questions!)
It seems Shumaila is very close to his heart and he feels that she has evolved as a character at the same time that Moiz himself has evolved as a person. He comes from a family that is firmly entrenched in the healthcare sector from Abbottabad and is no stranger to careers made from hard work and dedication. His achievements beyond his comedy range from working with the World Bank to being a FulBright Scholar. But what totally floored me about him was his attitude towards the creative process of his comedic endeavors and his clarity of vision regarding fame and fortune. The list of Brands he had
refused to work with because they did not add up to his concept of Shumaila Bhatti was frankly endless and certainly gave me pause when he added BBC to an already formidable list. But probably that is the reason why Shumaila Bhatti gets under our skins…. Because Moiz is firmly grounded and his vision for the moral quandary Shumaila represents is just not up for sale!
The more I talked to him the more I realized how much seriously he takes his responsibility towards showcasing the social and moral dilemmas of our time in a palatable manner.
A truly inspirational person I can't wait for more from Shumaila Bhatti which unfortunately will not be before 2019 as he has shelved most of his creative projects to focus on his work in the Urban Health Care Sector in Karachi. Don't I just wish that more of my weekends are spent meeting inspirational Pakistani millennials like Moiz who do us all proud!