What do you say about a girl you meet who has exceptional production skills, has worked in the top channels of the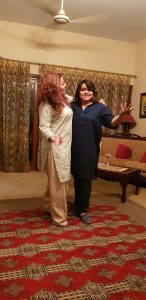 country and is currently responsible for managing all the bands in Pepsi Battle of the band (Whew!!!) who simultaneously runs one of the most revered Food review platforms in the country? Setiously if you wanna know what food to go out and eat please get yourself on her Platform Food Beat!
You call her Sadia Safdar!
Sadia who despite her dynamic personality is so down to earth that she has no idea what anyone would ever want to talk to her about! Well duh girl we like independent, fiery and powerful women who rule their arena and say exactly what's on their mind! And who adopt stray cats!
Love, love, love!
Sadia and I bonded over aloo K samosas that were no joke and mixed karak chai that we had out of dainty heirloom porcelain cups with her cats in attendance. She radiates confidence, good humor and no one within a one mile radius can mistake that don't mess with me aura despite the ready smile and rich laugh.
A woman who works in the male dominated area of production she knows how to hold her own together and happily talks away about her challenging yet fulfilling time on the Pepsi Battle of the Bands seasons.
Now coming back to the samosas that caught my heart but paled in front of her love for food it was Sadia's personality actually that stole my heart. Spontaneous, fun, blunt, earthy and just so full of life she is like a stick of dynamite that never explodes but always has a dangerous excitement to her. Wish more of us girls allowed ourselves to live out to be as true to ourselves as she does!