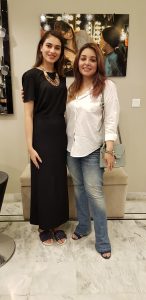 Sometimes you come across people, young people, who are so dynamic and have made such a huge success of their lives so fast that you can't believe how few years of age they actually are. Mahnoor Mizka is one such person that I had the good fortune to meet.
Bubbly, vivacious and brimming with laughter this young girl is one of the foremost hair stylists in the city and is doing celebrity styling all the time. Coming from a dynamic family who are big names in the beauty business this girl set out with her own aspirations and successfully carved a niche for herself as more an artist than a stylist!
When I met her I was totally taken in with her blunt straight bob in a gorgeous shade of bronzy brown that complemented her svelte tall figure to perfection. Talking with her I realized that even though she started working at 13 and has built her formidable reputation while only 20 she still is extremely humble about her success with her eyes more on how to create beautiful hair rather than making a name for herself in the industry. Well it's obvious that passion and dedication of that sorts always pays off and now this girl has it all!
If you are looking for an artsy edgy look go straight to Mizka!